One thing you can say about Donald Trump: He honors the last wishes of those he loves.
From 1977-1992, the length of their marriage, Donald and Ivana were the B List Toast of the Town (medium setting) for the New York glitterati. Her status as a ski champion gave her the opportunity to chase down, on the ski slopes, both Trump and a woman whom with he was having an affair.
At some point during those heady years, Trump pointed out to Ivana that if she died, and if her body were buried at one of his golf courses, there would be financial advantages for him. One might wonder, at this point, why Trump would want his wife buried at a golf course. The answer is either that Ivana adored golf courses or that the tax code in New Jersey exempts cemetery land from all taxes, rates, assessments, business taxes, sales taxes, income taxes, and inheritance taxes. Her grave would make Bedminster quality for cemetery status.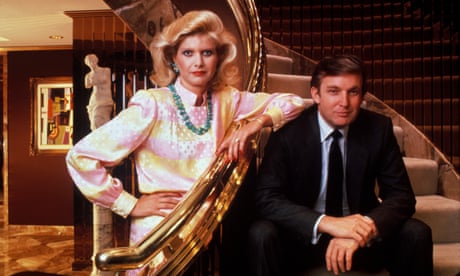 Ivana's answer was a resounding "Over my dead body."
According to documents published by ProPublica, the Trump family trust previously sought to designate a nearby property in Hackettstown, New Jersey, as a non-profit cemetery company. Coincidently, Trump has been making a list of People Who Screwed Me Over and Don't Deserve to Live." The list includes, Hillary Clinton, Never Trumpers, war heroes, wind farms, and Wade Osborne, the student at Wharton who was paid to write Trump's papers and take his exams for him. "I graduated with a 2.5 average. Wade didn't do his job. He was a weak, zero, loser." The full list of humans who screwed Trump (aside from illegal immigrants and journalists) includes 742 names, the exact number of plots the cemetery would have contained. "These folks don't deserve to be buried near their families. They were traitors, plain and simple."
Ivana Trump, who died on July 14 of this year, is the first person known to have been buried at his golf course. The use of the word "known" should be noted and thought about. Life in the Boomer Lane doesn't have to explain why. As for Ivana, Trump was true to his word. Ivana died when she fell down a flight of stairs. It should be noted here that death by stairs isn't a common occurrence, unless one is on a soap opera or in a film. A glaring exception was Kathleen Peterson, who allegedly met her demise that way. Her husband Michael was sentenced to life in prison without parole.
Possible, meaningful sites considered had been the first hole (Insert your own meaning here), the concession stand (She liked to eat), and the ladies' bathroom (Everybody needs those).
Baby Don, the slick-haired, rare big-game shooting, irrepressible spokesperson for the family, when questioned if his mom would have chosen to be buried at a golf course in New Jersey, said, "My mother was an icon of intelligence, sophistication, athletic ability and business savvy. She cared deeply about things like family, bouffant hair and presenting the best view of oneself in front of the camera. We must honor all of these things. When taken together, a golf course in New Jersey seems the perfect spot for her to rest for eternity. Besides, she has good company. Jimmy Hoffa, who my dad highly respects, is buried under a golf course in Georgia. I'm totally sure that countless other "connected" folks are buried under random places around the country."
Melania, Trump's third and current wife, has been silent on the choice, except for allegedly telling her personal secretary, "Donald better not even think about burying me on a frigging golf course. He knows that the Slovenian Mafia will hunt him down."
Ivana, unfortunately, was unavailable for comment.